BIOGRAPHY
About
Mais Harb
A Syrian singer, born in the village of Al-Mujimer in the As-Suwayda governorate, located in southern Syria.
Her passion and love for singing began at a young age, when she was brought up on folk songs and the songs of Mrs. Fairouz.
She worked with several international and Syrian bands, where she presented many concerts on Syrian theaters and other Arab and international theaters.
ALBUMS
Stream Albums Online
UPCOMING EVENTS
Join me in the next Concerts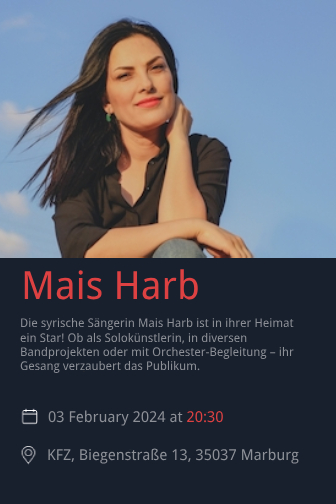 UPCOMING SHOW​
Kulturzentrum KFZ
Biegenstraße 13, 35037 Marburg
Join me at my next concert
in Marburg, Germany